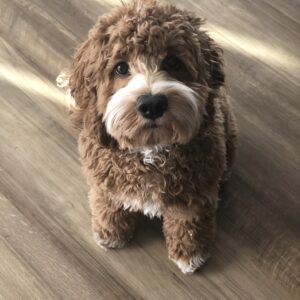 Arlo
Arlo is a 20 pound Cockapoo who lives in a guardian house at Dry Creek Ranch.  Arlo is very laid back, gentle, and loves to give kisses.  He also loves to play and go on outings. He is very smart and loves attention.  He is the son of our beloved Murphy.
Auggie
We have a new man in town hoping to replace our little Boagie. This is Auggie. He is 13 pounds of spunk and fluff! His Health testing came back as all clear with full furnishings.  We expect some great things from this little guy!
Benji
Benji "Mustachio" Wild is a delightful mini Goldendoodle who charms anyone who comes into contact with him. He is a sweet, mild mannered and very loving puppy. He is a cuddler and loves to play fetch! He is also quite fond of tummy rubs and kisses! Don't let all that sweetness fool you- he is curious and gets into mischief quite often. He blends in with the stuffed animals so make sure to have your glasses on while scanning the living room! He is a protector and will scan the perimeter before bedtime each night. He loves a good treat and gets excited at the sound of the word W-A-L-K! Be careful or he'll steal your heart just like he stole ours!
Blue
Blue is a funny, friendly, 35 pound Goldendoodle from Luna and our beloved Murphy. He is multigenerational (F4b). He has completed his health testing as clear and has the perfect coat to make teddy bear puppies. He greets everyone he sees and likes to sit by the entrance of the vet's office so that he can say hello to everyone!
Boomer
Boomer is a very handsome 44lb cream colored English Teddy Bear goldendoodle from Utah who loves snuggling on the couch- but especially with his Mom. He is very calm and very smart.   He also loves his toys, playing frisbee,  and going on car rides to stick his head out the window to feel the wind on his face!  He has 23,000 followers on @thatboomerdoodle on Instagram.
Ford
We have partnered with Posh Doodles in Utah to use Ford to honeymoon with a few of our girls.  He is a 4th generation, 8 pound Doodle with a Fleece Coat and a Caramel Tuxedo.  Ford makes super cute puppies!
Griff
Griff is a 15 pound goldendoodle from Poppy & Auggie. He has the silkiest red coat that never gets matted. He is the sweetest boy, loves to cuddle and loves his people- and especially loves to retrieve!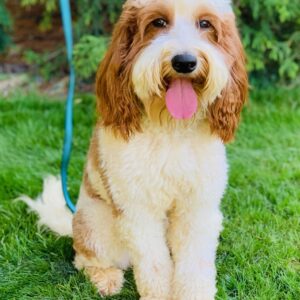 Jack Black
Meet our boy Jack Black! He is a handsome 25 pound Canadian Australian Labradoodle. He has a joker personality, very playful, and LOVES to give kisses!
Koda
Koda is a very sweet guy. He is a 32 pound F1b Goldendoodle who lives in a guardian home with his Mom, Maple, an F1 goldendoodle.  He loves to meet new dogs and people and give other dogs kisses.
Kooper
Kooper weighs in at 11.8 pounds.  He is a talker, not a barker and he is very funny.  He loves playing outside, going for Jeep rides and likes to hike.  He is more of a leaner than a snuggler. His coat is considered parti colored- White with Red markings.
Mackay
Mackay is a multigenerational goldendodle from Molly and Murphy.  He lives in a guardian home in Meridian with his mom and big brother.  He is 35 pounds of cuddles!  He has such a funny personality, he is always keeping us laughing.
Oliver
Oliver is a 22 pound, 5th generation goldendoodle with a fun personality.  He goes to work in the office with his owner and acts as their official greeter.  He is fully health tested by Embark as a carrier of ALT.  This means that he can't be bred to another carrier.  His coat has Full Furnishings -  meaning his offspring will have the mustache, beard, and eyebrows found in our goldendoodles.
Scuba
Scuba is a micro goldendoodle out of UT and he is as gentle and sweet as they get! Incredibly playful with his 3 little humans but 4.5lbs of all business when it's time to breed. Fully furnished but with one curl gene which straightens out our curly girls producing nice wavy coats.
Willy
Willy is an 18 pound red goldendoodle.  He is little shy around new people, but likes to sit on the back of our couch and watch the world.  He is training in agility and can leap from the floor to sit on a 4' obstacle!  He is as affectionate as they come and loves people.
Winston
Winston is a 60 pound Parti AKC standard Poodle. His coat is not as curly as most standard poodles. He has the most laid back disposition of any dog his age I have seen!