Ginger and Koda are expecting a litter of 7 gorgeous Red Goldendoodles on 12/10!
37 pound Red Multigenerational Ginger was bred to 32 pound F1b Red Goldendoodle, Koda for a litter that will be about 35 pounds.
Ginger really enjoys other dogs and people.  She is so happy to meet new people, but LOVES, LOVES, LOVES her guardian and the feeling is definitely mutual. Koda is a very caring guy and is often seen trying to comfort other dogs by licking their ears.
The last litter from these two was 35 to 40 pounds and had deep red wavy coats.  Her son, Lockett, "@thezoomiedood" has 11.5K followers on Instagram.
*Photo Below is Lockett from previous litter and is not available.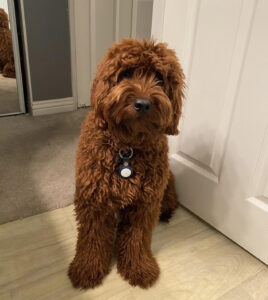 Price: $3500
Puppy Selection Date:
Go Home Date: February 2, 2022
1) Guardian - Reserved
2) Spencer - Either Reserved
3) Corrales - Male- Reserved
4) Sherman - Male Reserved
5) Available
6) Available
7) Available