Cheyenne and Koda had 9 beautiful puppies 11/24  – 6 girls and three boys!
Cheyenne is an athletic, beautiful, red, third generation Goldendoodle who lives with her guardian family in Meridian, Idaho.  She is 45 pounds and hypoallergenic.  Her favorite past time is going for hikes with her owner. She has her own Instagram page- @Cheyennethedoodle! Koda is a very sweet guy. He is a 32 pound F1b Goldendoodle who lives in a guardian home with his Mom, Maple, an F1 goldendoodle.  He loves to meet new dogs and people and give other dogs kisses. Their previous puppies averaged 40 pounds.
Puppies will be available to be picked out for Christmas and we can send a video of the puppy selected, but go home January 20.
Two different puppies from Cheyenne & Koda's previous litter- NOT Available *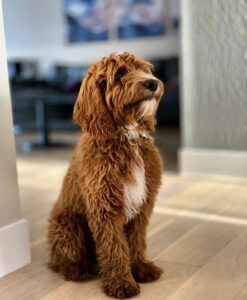 Price: $3200
Puppy Selection Date:
Go Home Date: January 22, 2022
1). Guardian - Reserved
2). Available
3). Available
4). Available
5). Available
6). Available
7). Available
8). Available
9). Available
10). Available