Guardian Puppies!
We have a few spots to be guardians for our 1st pick of the litter for a few litters.  Please visit our Guardian Program page for more information.  Noelle will be about 45 pounds full grown.  She is a Double Doodle from Harper and Jack.  She has the nicest, calm demeanor.  She was born 10/29.  Evee is a goldendoodle from Maisy and Auggie.  She is a Goldendoodle that will be about 15 pounds.  Her birthday is 11/11. Purple Girl from Ginger and Koda will be about 35 pounds.  She is a goldendoodle.
Price:
Puppy Selection Date:
Go Home Date: January 24, 2022
Willow and Charlie  –  2 Gorgeous Boys Available!
Willow is a black tuxedo cocker spaniel and Charlie is our stud poodle.  Willow is a very calm girl who has the most gorgeous puppies.  We have actually kept several of her puppies back for our breeding program because they have such great personalities.  Why would a Goldendoodle breeder breed Cockapoos?   Cockapoos are remarkably intelligent.  As such, they train easily, and can be taught to do almost anything. Cockapoos are highly affectionate, outgoing, and become playful at the drop of a hat. These are happy, friendly dogs by nature. They crave the company of their owners. They are always ready to play, and when trained properly, are very good with children and other pets.
Little Buddy has a wavy black & white tuxedo coat, will be 25lbs when fully grown and is very affectionate.  He has such a cute personality! See his video on our Sophie's Goldendoodles facebook page. He is so much more gorgeous in person than even his videos show!
Price: $2500
Puppy Selection Date:
Go Home Date: January 9, 2022
Claire and Auggie – Purple Boy available!
Claire is a 35 pound red Goldendoodle with the most expressive eyes. She is very calm and very sweet. She LOVES people and they love her!  She talks to me and I think she thinks I understand what she is saying.  Our popular Auggie is a 14 pound stud muffin.  He is very sweet and calm.  He is gorgeous and he knows it!  These two had some beautiful red 25 pound puppies with Teddy Bear faces on 11/26/21- 2 Girls and 4 Boys!
Price: $3200
Puppy Selection Date:
Go Home Date: January 21, 2022
***Purple Boy is still available***
Ginger and Koda have Guardian available!
37 pound Red Multigenerational Ginger was bred to 32 pound F1b Red Goldendoodle, Koda for a litter that will be about 35 pounds.
Ginger really enjoys other dogs and people.  She is so happy to meet new people, but LOVES, LOVES, LOVES her guardian and the feeling is definitely mutual. Koda is a very caring guy and is often seen trying to comfort other dogs by licking their ears. These two made an adorable litter of 8 puppies on 12/8/21!
The last litter from these two was 35 to 40 pounds and had deep red wavy coats.  Her son, Lockett, "@thezoomiedood" has 11.5K followers on Instagram.
*Photo Below is Lockett from previous litter and is not available.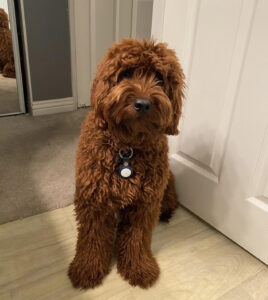 ** Ginger & Koda's New Litter Below **
** We are taking applications for a guardian for Purple Girl! **
** Please visit our Guardian Program page for more information! **
Price: $3500
Puppy Selection Date:
Go Home Date: February 2, 2022
1) Purple Girl - Taking Guardian Applications
2) Spencer - Beige Boy Reserved
3) Corrales - Black Boy Reserved
4) Sherman - Pink Boy Reserved
5) Harrington - Red Female Reserved
6) Liu - Green Girl Reserved
7) Miller - Blue Girl Reserved
8) Miller - Yellow Girl on hold